http://www.costaricanewssite.com/
http://www.pacifichomefurnishing.com
http://www.deepblue-diving.com
http://www.puntaplayavistas.com
http://www.webdesigncostarica.com
Web Camera Arenal Volcano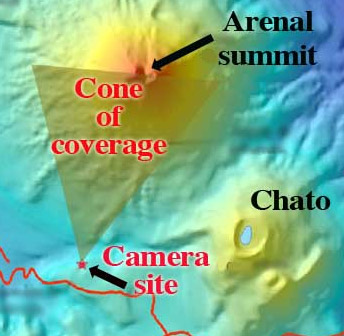 Observatorio Vulcanológico y Sismológico de Costa Rica graphic Graphic shows location of camera and the dormant Chato volcano.
Arenal volcano online for viewing by public
By the A.M. Costa Rica staff
The Arenal volcano is now under 24-hour electronic watch by scientists at the Observatorio Vulcanológico y Sismológico de Costa Rica. The link is HERE!
The observatory, part of Universidad Nacional, installed a camera at the base of the mountain in May for testing, and now the camera is online for use by the public.
The Internet signal is being relayed by the Arenal Observatory Lodge, said the scientists. The purpose is not just to amuse the public. The camera will be watching when no one else is, said the Observatorio Vulcanológico y Sismológico. Many important events take place out of the range of other instruments that the scientists have installed near the mountain, they said. Then there is the rain and clouds that block the view, they added.
Plans call for a better camera that will zoom in and out and move horizontally. The scientists also said they would like more infrared imaging.
The camera only sees the south sides of the mountain because it is placed to the south. Unlike other volcanos, Arenal erupts continually and sends flaming rocks down its slopes. The observatory also has a camera at the Turrialba volcano, but it is out of service temporarily.